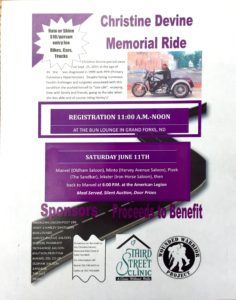 Christine Devine passed away on September 25, 2015, at the age of 44. She was diagnosed with Primary Pulmonary hypertension on 1999. Despite facing numerous health challenges and surgeries associated with this condition she pushed herself to "Live Live"  enjoying time with family and friends, going to the lake when she was able and, of course, riding Harley's! This ride is intended to celebrate her love for live and support the work of Third Street Clinic and
The Wounded Warriors Project.
Click on the poster for more details.